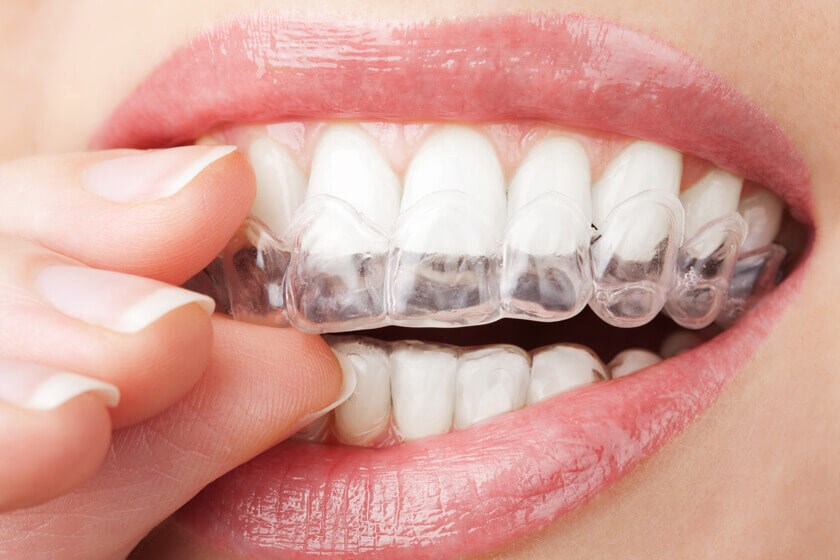 Well-aligned teeth give the cosmetic appeal of an attractive and glowing smile — a feature many individuals hope to attain. Unfortunately, for many people, dental problems like misaligned, crowded, or gapped teeth can negatively impact their desired smile. Although traditional orthodontics are a proven method to gain a well-aligned, appealing smile, the sheer thought of having braces for two years is often dreaded by adult and teen patients alike.
The Invisalign orthodontic system provides a reliable option for local residents of all ages who desire orthodontic solutions to boost the appearance and wellness of their teeth without braces. This contemporary approach has improved the teeth alignment process and produces exceptional results. If you're unhappy with your teeth and are hoping to find a solution that suits your needs, our skilled team of dentists welcomes you to read this post and learn about the primary advantages of seeking out Invisalign aligners for your ortho treatment.
THE TOP BENEFITS OF CHOOSING INVISALIGN INSTEAD OF BRACES
Our local dentists are pleased to talk about the benefits of Invisalign aligners with younger and adult patients alike. Although traditional braces are still the necessary orthodontic treatment for certain individuals, a handful of the most popular reasons men, women, and adolescents prefer Invisalign include:
Pleasant to Use
When compared with traditional metal braces, numerous individuals say that Invisalign orthodontics are more comfy to live with. The fitted plastic appliances are custom-crafted to sit snugly against the teeth, producing a fit and feel that's comfortable as well as secure. Opting for Invisalign permits men, women, and teens to avoid the challenges of brackets and archwires, which could accumulate food particles and bacteria and typically lead to inner mouth damage.
Clear Trays
Invisalign clear aligners are composed of a clear medical-grade material, making them much less obvious to other people when compared to the visual effect of traditional bracket and archwire hardware. The discreet appearance of Invisalign orthodontics is a positive perk for adolescents who might be too embarrassed to wear visible metal orthodontics. Invisalign could even be great for older patients who don't want their teeth straightening option to negatively affect their professional lives.
Easy for Any Person's Life
While metal braces tend to collect food and plaque, clear aligners are removed from the mouth before consuming food, lessening these problems. However, in order to achieve the intended outcomes and avoid lengthening the duration of your orthodontic care, Invisalign liners should only be taken out for drinking and eating, as well as when brushing the teeth. Also, it is important to properly clean the teeth after mealtimes and prior to reinserting the trays to decrease the risk of plaque and food ending up stuck between the teeth and liner.
Quicker Treatment Solution for Teeth Alignment Concerns
For a number of situations, orthodontic treatment using Invisalign aligners takes less time when compared to traditional metal braces. A lot of patients who opt for Invisalign only have mild issues to address, like teeth that are slightly uneven, whereas others seek this solution for more pressing treatment needs, including poor bites. The degree of the condition usually will decide treatment timing, but for a number of patients, orthodontic treatment with Invisalign trays lasts from 6 – 18 months on average.
Better Dental Health and Appearance
Straightening the teeth by providing an orthodontic treatment produces teeth that are easier to brush, decreasing the risk of tooth decay and gum disease. Since Invisalign aligners are easy to take out of the mouth, the teeth and gum tissue should also be easier to clean properly, especially when compared to the challenges that come with tooth brushing and flossing around immovable metal brackets and archwires. Selecting Invisalign to address your orthodontic concerns might also lessen certain extra risks that come with traditional metal braces, including the greater occurrence of tooth decay and periodontal disease from buildup accumulating near the hardware.
A TRUSTED TREATMENT FOR BOTH ADOLESCENT AND OLDER PATIENTS
Invisalign trays could be a beneficial treatment for adolescents and more mature patients alike who want to be more inconspicuous with their orthodontic care. No matter what your aim for orthodontic treatment might be, we welcome you to speak with our devoted team to learn if Invisalign could be a great solution for your oral wellness issues. The Invisalign system is a comfy, clear alternative for straightening teeth and could be the treatment you're looking for to attain your ideal smile.